September 2015
Dear Yogis,
I hope you'll join consider joining us on September 27 to spend a full day delving into the many aspects of yoga that we dearly love.
Workshop: Bringing Your Dharma into Focus ~a workshop series devoted to exploring and actualizing the gift of teaching/living yoga.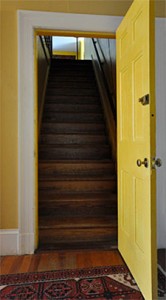 Who: Yoga teachers and avid practitioners of yoga
What: A day of yoga practice and discussion
Where: Yoga Center at Solar Hill
When: Sunday, September 27, 2015, from 9 am – 4 pm
Why: To share the day doing yoga and discussing its many aspects with a group of wonderful folks
Workshop FAQs:
What will the day include?
Morning practice: Poses, breathwork, and meditation
Poses clinic: Thorough exploration of backward bends, including different asanas and basic anatomy and physiology
Discussions: Different aspects of yoga and finding your dharma
Lunch Break: Bring your own and enjoy it on the beautiful Solar Hill grounds
What is dharma?
According to Stephen Cope, who wrote The Great Work of Your Life, "The Sanskrit word "dharma," as used in the Bhagavad Gita, is so full of meaning that it is impossible to grasp its full scope through any English translation." Wow. At its core, you could consider it your life's meaning and purpose. For this workshop, we'll use Stephen's book as inspiration for identifying something that is important to you and on which you would like to put more focus to get more satisfaction out of life.
Will I have to teach yoga in the workshop?
No. Both yoga teachers and non-teachers are invited to attend.  Yoga teachers can earn 6 continuing education credits (CEUs).
I understand this is just one workshop in a series. Do I have to sign up for all—or more than one—workshop?
No. Feel free to join us for any of the workshops you are interested in. Click here to learn about the other workshops in this series.
Cost: $75 per workshop or $60 each if you sign up for all four.
Info and registration: Contact me at (802) 257-1926 or scott-willis@comcast.net
I hope to see you there!
Cheers,
Scott