Hits the Spot Yoga for Golfers Returns…
Click here for information about class schedule, rate, and enrollment!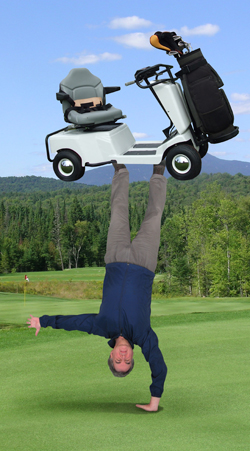 I'm excited to announce that Hits the Spot Yoga for Golfers has returned! The new course will begin in January 2016.
One reason I created this 12-session course is because as we grow older and wish to continue to fully enjoy the amazing game of golf, our bodies don't always cooperate fully. To help our bodies stay in game-playing shape over the winter, we can benefit greatly from practicing golf-specific yoga techniques for optimal flexibility, strength, and focus.
Golf, of course, has five main components:
Long game
Short game
Putting
Physical
Mental
The new Hits the Spot Yoga for Golfers 2016 focuses solely on the physical and mental aspects of the game, leaving the swing mechanics in the most capable hands of really good teachers like Eric Sandstrum and Jay Morelli.
Over the 12 sessions, we will focus on learning four yoga routines that promote flexibility, balance, strength, and joint health. Once you learn these routines, you can tailor them to meet your specific needs and then continue using them throughout the golf season.
At the end of each class, during relaxation, we will listen to tips from the most excellent Dr. Bob Rotella on how to improve our mental game, including tips on how to practice on the range and practice greens, and how to take what we practice onto the course.
There's another important change in the course for 2016: separate women's and men's classes. Don't worry, this isn't to cut down on the fun! We're doing this so each class can focus on the specific—and different—changes in flexibility and strength that women and men experience with time.
Hits the Spot Yoga for Golfers 2016 is a great way to improve your game during the off season while you hang out with other folks who love golf—as we all wait for that magical day in April.
Here's to achieving our personal best in 2016—and having fun while we do it!
Cheers,
Scott
Click here for information about class schedule, rate, and enrollment!