Yoga for Golfers Course with Scott Willis
January – April 2019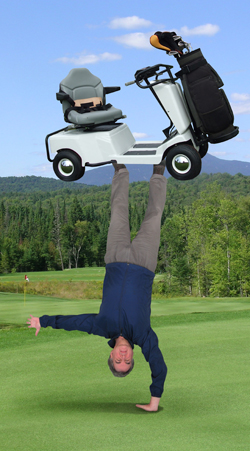 As we grow older, and wish to continue to fully enjoy this amazing game, we can benefit greatly from practicing golf-specific yoga techniques for optimal flexibility, strength and focus.
Class will meet Saturdays 10:45-Noon. Please see other page for dates/fees.
You will learn yoga routines that promote flexibility, balance, strength and joint health. We will also listen to CD tracks (we've added some new ones this year) of top sport psychologists on how to improve our mental game. Many of them relate directly to yoga practices of mindfulness. At the end of the class, will briefly discuss how these concepts might help us more fully enjoy the game.
New this year! A weekly bonus Indoor Practice Session – Noon-12:30pm
…for those who want remain after the regular class, to practice putting on the (stimp12) yoga center rug, chip into my new golf net, and occasionally watch short segments of videos, e.g. Phil's Short Game video.
Hits the Spot Yoga for Golfers 2019 is a great way to improve your game during the off-season, and hang out with folks who love golf, as we wait for that magic day in April!
Here's to fully enjoying this wonderful game and achieving our personal best in 2019!
Fairways and greens,
Scott
---
DATES, TIMES AND FEES
Where:
The Yoga Center at Solar Hill, 229 Western Avenue, Brattleboro, VT 05301
When:
Yoga for Golfers Class – Saturdays 10:45am-Noon, followed by
Bonus Practice Sessions – Noon-12:30pm (Bring your putters and chipping wedges)
10 Classes (with free practice sessions)
January 19, 26; February 2,16; March 2, 16, 23, 30; April 6, 13
Fee
$180 for the course
$150 early bird – if received by January 12, 2019
Make-up classes – no charge … at Scott's regular yoga classes:
Tuesday 5:30-6:45 PM; Wednesday 9:15-10:30am;
Thursday 5:30-6:45 PM; Friday 5:30-6:45 PM
For more information and to register, contact Scott at 802-257-1926 or email at
scott-willis@comcast.net